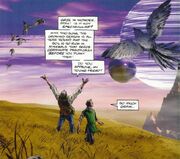 Dania was a
Food Age
which
Varsil
. It was a lush rich
Age
full of vegetation; the planet was so rich in minerals that plant life grew quick, and thans to the planet being between two suns, the growing season was perpetual.
Varsil created it in order to end the famine of D'ni (read: Garternay?) succeeding where other scribes before him had failed, perfecting the Art, all this thanks to the loyalty of his apprentice Atak. He named the Age after the duahger of King Clevis, princess Dania whom he desired.
For his service, Varsil asked for Dania's hand for reward. The King angrily refused. Varsil wished to avenge his people by destroying his works, including the Age.[1]
References
Edit
Ad blocker interference detected!
Wikia is a free-to-use site that makes money from advertising. We have a modified experience for viewers using ad blockers

Wikia is not accessible if you've made further modifications. Remove the custom ad blocker rule(s) and the page will load as expected.