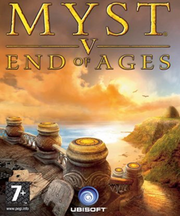 Myst V: End of Ages
is the sixth game released in the
Myst series
and the ninth (and final) chronologically (sixth if the books are not taken into consideration). It was released in 2005 and was developed by
Cyan Worlds
. Like
RealMYST
and
Uru: Ages Beyond Myst
, it is real time rendered, though options exist that allow players to revert back to the older node system. Just prior to the release of Myst V, Cyan Worlds laid off nearly all of its employees and announced that they would be ceasing all development.
Ad blocker interference detected!
Wikia is a free-to-use site that makes money from advertising. We have a modified experience for viewers using ad blockers

Wikia is not accessible if you've made further modifications. Remove the custom ad blocker rule(s) and the page will load as expected.