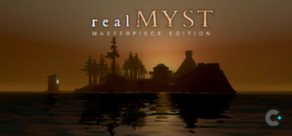 realMyst: Masterpiece Edition
is an updated version of 
realMYST
, released February 5, 2014 to celebrate the 20th anniversary of 
Myst
. Like realMYST (and unlike Myst), it features a fully rendered 3D environment.
In addition to the content of realMyst, it has the following features[1]:
All the original Myst Ages plus bonus Rime Age
Full Myst gameplay and interaction
Dynamic environments - rippling water, falling rain, waving trees & grass
Advanced graphic effects like bloom, blur, depth of field, etc.
Day and night - watch sunsets and sunrises, or explore at night
Flashlight - for exploring dark nights or dark corners
Haunting Myst music score and dynamic 3D sounds
Classic Point & Click navigation option - just like original Myst
Free roam interface option - standard navigation controls
Zip Mode in Classic navigation - hold down to keep walking
Auto quality option - checks your frame rate and auto-adjust your quality
Interactive Guides - illustrates how to interact with objects
Bring up original Myst images to compare and reminisce
Bookmark feature to save & restore progress
Auto-save to insure you pick up where you left off
realMyst Hint Guide - get past that one puzzle that's got you stumped
See realMYST's plot.
Ad blocker interference detected!
Wikia is a free-to-use site that makes money from advertising. We have a modified experience for viewers using ad blockers

Wikia is not accessible if you've made further modifications. Remove the custom ad blocker rule(s) and the page will load as expected.