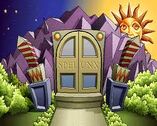 Spelunx and the Caves of Mr. Seudo is a 1991 educational computer game designed by Robyn and Rand Miller, best known as the creators of Myst.
Spelunx has no real story, and is meant as a game to be explored and played with rather than completed. Other than the player, there are two main characters, Professor Spelunx and Mr. Seudo, who are pictured but never actually meet the player. Robyn Miller hand-drew all of the graphics in the game.
In the 1993 colorized release, Cyan's Myst made a cameo appearance in the Tumnus room. You can view a picture of Myst Island by dragging the x-ray viewer on the model house to the bottom right hand corner of the screen.
Ad blocker interference detected!
Wikia is a free-to-use site that makes money from advertising. We have a modified experience for viewers using ad blockers

Wikia is not accessible if you've made further modifications. Remove the custom ad blocker rule(s) and the page will load as expected.